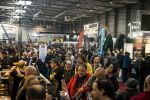 FOR FISHING 2019 took place at PVA EXPO PRAGUE during 14 – 17 February 2019. Once again, during the opening ceremony the trade fair was named as the largest fishing fair in Europe by Jakub Vagner. Four halls of PVA EXPO offered 16 005 m2 of the exhibition area and 202 exhibitors, not only from the Czech Republic, but also from 12 countries.
During 4 days the fair was attended by 38 135 visitors, it is increase by 14 % in comparison with the attendance of 2018.
We would like to thank to all exhibitors, partners and visitors as well. Right now we are working on the 11th edition of FOR FISHING 2020!
Looking forward to seeing you in Prague!